{"id":770758049841,"title":"Composite Granite Sink Cleaners Care Maintenance Kit","handle":"supreme-surface-cleaners-composite-granite-sink-and-restoration-kit","description":"\u003cdiv style=\"text-align: center;\"\u003e\u003cspan style=\"color: #ff0000;\"\u003e\u003cstrong\u003e\u003c\/strong\u003e\u003c\/span\u003e\u003c\/div\u003e\n\u003cp class=\"p1\"\u003e\u003cspan class=\"s1\"\u003eCombine two of our best selling products and get a composite granite sink care and maintenance kit. If you're purchasing this item to remove soap scum buildup or white haze caused by mineral deposits (calcium and lime), you're making a good investment. With proper instruction, these two products will improve the look of older sinks, protect newer sinks, and simplify future care and maintenance.\u003c\/span\u003e\u003c\/p\u003e\n\u003ch3\u003e\u003cspan\u003eProduct Demonstration:\u003c\/span\u003e\u003c\/h3\u003e\n\u003cdiv class=\"videoWrapper\"\u003e\u003ciframe width=\"504\" height=\"284\" src=\"https:\/\/www.youtube.com\/embed\/sLnZ-oEIGuA?rel=0\" frameborder=\"0\" allow=\"autoplay; encrypted-media\" allowfullscreen=\"\"\u003e\u003c\/iframe\u003e\u003c\/div\u003e\n\u003cp\u003eOne of the most common issues related to black granite composite sinks is how to remove the white haze. If you find yourself facing this dilemma, the following demonstration video offers professional advice, technics and cleaning tips.\u003c\/p\u003e\n\u003ch3\u003e\n\u003cstrong\u003e\u003c\/strong\u003e\u003cspan class=\"s1\"\u003e\u003cb\u003eInstructions:\u003c\/b\u003e\u003c\/span\u003e\n\u003c\/h3\u003e\n\u003col class=\"ol1\"\u003e\n\u003cli class=\"li1\"\u003e\u003cspan class=\"s1\"\u003eWatch our Product Demonstration Video located above\u003c\/span\u003e\u003c\/li\u003e\n\u003cli class=\"li1\"\u003e\u003cspan class=\"s1\"\u003eSaturate the surface of the sink in a liberal fashion using the "Scum and Mineral Deposit Remover" and let sit for several minutes. Depending on condition, 3-30 minutes\u003c\/span\u003e\u003c\/li\u003e\n\u003cli class=\"li1\"\u003e\u003cspan class=\"s1\"\u003eLightly agitate with a light abrasive pad possibly a Scotch-brite Dishwand or equal\u003c\/span\u003e\u003c\/li\u003e\n\u003cli class=\"li1\"\u003e\u003cspan class=\"s1\"\u003eThoroughly rinse and then dry with clean towel\u003c\/span\u003e\u003c\/li\u003e\n\u003cli class=\"li1\"\u003e\u003cspan class=\"s1\"\u003eBefore moving to the next step, check to make sure that all mineral deposits have been removed.\u003c\/span\u003e\u003c\/li\u003e\n\u003cli class=\"li1\"\u003e\u003cspan class=\"s1\"\u003eSpray Supreme Surface Granite, Quartz and Marble Treatment onto sink and buff with included microfiber towel\u003c\/span\u003e\u003c\/li\u003e\n\u003c\/ol\u003e\n\u003cmeta charset=\"utf-8\"\u003e\n\u003cp class=\"p2\"\u003e\u003cb\u003e\u003cspan class=\"s1\"\u003eNote: \u003c\/span\u003e\u003c\/b\u003eThese products will not reverse the damage already done by abrasive pads or chemical solutions.\u003cspan class=\"Apple-converted-space\"\u003e  \u003c\/span\u003eThis type of repair requires an additional step, call 317-865-0000 for details.\u003c\/p\u003e\n\u003cp class=\"p2\"\u003e\u003cb\u003eHelp and Support\u003c\/b\u003e: Supreme Surface Cleaners is derived from the natural stone industry and we're here to help make your sink look as good as possible. Free consultations 7 days a week at 317-865-0000. We turn everyday consumers into stone care pros.\u003cbr\u003e\u003cspan class=\"s1\"\u003e\u003c\/span\u003e\u003c\/p\u003e\n\u003cmeta charset=\"utf-8\"\u003e\n\u003cp\u003e\u003cstrong\u003eHelpful Links:\u003c\/strong\u003e\u003c\/p\u003e\n\u003cul\u003e\n\u003cli\u003e\u003ca href=\"https:\/\/www.supremesurfacecleaners.com\/blogs\/stonecare\/white-haze-on-granite-composite-sinks\" target=\"_blank\" title=\"White Haze On Composite Granite Sinks\" rel=\"noopener noreferrer\"\u003eWhite Haze On Composite Granite Sinks\u003c\/a\u003e\u003c\/li\u003e\n\u003cli\u003e\u003ca href=\"https:\/\/www.supremesurfacecleaners.com\/blogs\/stonecare\/cleaning-and-proper-care-for-stone-showers-marble-travertine-more\"\u003eCleaning and proper care for stone showers\u003c\/a\u003e\u003c\/li\u003e\n\u003cli\u003e\u003cspan\u003e\u003ca href=\"https:\/\/www.supremesurfacecleaners.com\/blogs\/stonecare\/travertine-care-maintenance-cleaning\"\u003eTravertine Care and Maintenance Tips\u003c\/a\u003e\u003c\/span\u003e\u003c\/li\u003e\n\u003c\/ul\u003e\n\u003cp\u003e \u003c\/p\u003e\n\u003cmeta charset=\"utf-8\"\u003e\u003cmeta charset=\"utf-8\"\u003e\n\u003ch3\u003e\u003cspan\u003e\u003c\/span\u003e\u003c\/h3\u003e\n\u003cp\u003e \u003c\/p\u003e","published_at":"2018-05-17T17:25:21-05:00","created_at":"2018-05-17T16:42:54-05:00","vendor":"Supreme Surface®","type":"Stone Care","tags":["Best Sellers","composite granite sink cleaners","granite cleaner","granite composite sink cleaner","granite polish","Granite Quartz \u0026 Marble Treatment","granite sealer","ioSeal","Quartz Cleaner","quartz polish","quartz sealer","Remove: Calcium Lime Rust Water Spots Soap Scum","Scum \u0026 Mineral Deposit Remover","stone care","Supreme Surface"],"price":2795,"price_min":2795,"price_max":2795,"available":true,"price_varies":false,"compare_at_price":3190,"compare_at_price_min":3190,"compare_at_price_max":3190,"compare_at_price_varies":false,"variants":[{"id":8706641788977,"title":"Default","option1":"Default","option2":null,"option3":null,"sku":"SS-CP-GQMT.SCM-8B.24B-x1-S","requires_shipping":true,"taxable":true,"featured_image":null,"available":true,"name":"Composite Granite Sink Cleaners Care Maintenance Kit","public_title":null,"options":["Default"],"price":2795,"weight":1366,"compare_at_price":3190,"inventory_quantity":-657,"inventory_management":null,"inventory_policy":"deny","barcode":""}],"images":["\/\/cdn.shopify.com\/s\/files\/1\/1308\/2761\/products\/composite-granite-sink-cleaners-care-maintenance-kit-supreme-surface_415.jpg?v=1576176878"],"featured_image":"\/\/cdn.shopify.com\/s\/files\/1\/1308\/2761\/products\/composite-granite-sink-cleaners-care-maintenance-kit-supreme-surface_415.jpg?v=1576176878","options":["Title"],"media":[{"alt":"Composite Granite Sink Cleaners Care Maintenance Kit","id":5855567118472,"position":1,"preview_image":{"aspect_ratio":1.0,"height":800,"width":800,"src":"https:\/\/cdn.shopify.com\/s\/files\/1\/1308\/2761\/products\/composite-granite-sink-cleaners-care-maintenance-kit-supreme-surface_415.jpg?v=1576176878"},"aspect_ratio":1.0,"height":800,"media_type":"image","src":"https:\/\/cdn.shopify.com\/s\/files\/1\/1308\/2761\/products\/composite-granite-sink-cleaners-care-maintenance-kit-supreme-surface_415.jpg?v=1576176878","width":800}],"content":"\u003cdiv style=\"text-align: center;\"\u003e\u003cspan style=\"color: #ff0000;\"\u003e\u003cstrong\u003e\u003c\/strong\u003e\u003c\/span\u003e\u003c\/div\u003e\n\u003cp class=\"p1\"\u003e\u003cspan class=\"s1\"\u003eCombine two of our best selling products and get a composite granite sink care and maintenance kit. If you're purchasing this item to remove soap scum buildup or white haze caused by mineral deposits (calcium and lime), you're making a good investment. With proper instruction, these two products will improve the look of older sinks, protect newer sinks, and simplify future care and maintenance.\u003c\/span\u003e\u003c\/p\u003e\n\u003ch3\u003e\u003cspan\u003eProduct Demonstration:\u003c\/span\u003e\u003c\/h3\u003e\n\u003cdiv class=\"videoWrapper\"\u003e\u003ciframe width=\"504\" height=\"284\" src=\"https:\/\/www.youtube.com\/embed\/sLnZ-oEIGuA?rel=0\" frameborder=\"0\" allow=\"autoplay; encrypted-media\" allowfullscreen=\"\"\u003e\u003c\/iframe\u003e\u003c\/div\u003e\n\u003cp\u003eOne of the most common issues related to black granite composite sinks is how to remove the white haze. If you find yourself facing this dilemma, the following demonstration video offers professional advice, technics and cleaning tips.\u003c\/p\u003e\n\u003ch3\u003e\n\u003cstrong\u003e\u003c\/strong\u003e\u003cspan class=\"s1\"\u003e\u003cb\u003eInstructions:\u003c\/b\u003e\u003c\/span\u003e\n\u003c\/h3\u003e\n\u003col class=\"ol1\"\u003e\n\u003cli class=\"li1\"\u003e\u003cspan class=\"s1\"\u003eWatch our Product Demonstration Video located above\u003c\/span\u003e\u003c\/li\u003e\n\u003cli class=\"li1\"\u003e\u003cspan class=\"s1\"\u003eSaturate the surface of the sink in a liberal fashion using the "Scum and Mineral Deposit Remover" and let sit for several minutes. Depending on condition, 3-30 minutes\u003c\/span\u003e\u003c\/li\u003e\n\u003cli class=\"li1\"\u003e\u003cspan class=\"s1\"\u003eLightly agitate with a light abrasive pad possibly a Scotch-brite Dishwand or equal\u003c\/span\u003e\u003c\/li\u003e\n\u003cli class=\"li1\"\u003e\u003cspan class=\"s1\"\u003eThoroughly rinse and then dry with clean towel\u003c\/span\u003e\u003c\/li\u003e\n\u003cli class=\"li1\"\u003e\u003cspan class=\"s1\"\u003eBefore moving to the next step, check to make sure that all mineral deposits have been removed.\u003c\/span\u003e\u003c\/li\u003e\n\u003cli class=\"li1\"\u003e\u003cspan class=\"s1\"\u003eSpray Supreme Surface Granite, Quartz and Marble Treatment onto sink and buff with included microfiber towel\u003c\/span\u003e\u003c\/li\u003e\n\u003c\/ol\u003e\n\u003cmeta charset=\"utf-8\"\u003e\n\u003cp class=\"p2\"\u003e\u003cb\u003e\u003cspan class=\"s1\"\u003eNote: \u003c\/span\u003e\u003c\/b\u003eThese products will not reverse the damage already done by abrasive pads or chemical solutions.\u003cspan class=\"Apple-converted-space\"\u003e  \u003c\/span\u003eThis type of repair requires an additional step, call 317-865-0000 for details.\u003c\/p\u003e\n\u003cp class=\"p2\"\u003e\u003cb\u003eHelp and Support\u003c\/b\u003e: Supreme Surface Cleaners is derived from the natural stone industry and we're here to help make your sink look as good as possible. Free consultations 7 days a week at 317-865-0000. We turn everyday consumers into stone care pros.\u003cbr\u003e\u003cspan class=\"s1\"\u003e\u003c\/span\u003e\u003c\/p\u003e\n\u003cmeta charset=\"utf-8\"\u003e\n\u003cp\u003e\u003cstrong\u003eHelpful Links:\u003c\/strong\u003e\u003c\/p\u003e\n\u003cul\u003e\n\u003cli\u003e\u003ca href=\"https:\/\/www.supremesurfacecleaners.com\/blogs\/stonecare\/white-haze-on-granite-composite-sinks\" target=\"_blank\" title=\"White Haze On Composite Granite Sinks\" rel=\"noopener noreferrer\"\u003eWhite Haze On Composite Granite Sinks\u003c\/a\u003e\u003c\/li\u003e\n\u003cli\u003e\u003ca href=\"https:\/\/www.supremesurfacecleaners.com\/blogs\/stonecare\/cleaning-and-proper-care-for-stone-showers-marble-travertine-more\"\u003eCleaning and proper care for stone showers\u003c\/a\u003e\u003c\/li\u003e\n\u003cli\u003e\u003cspan\u003e\u003ca href=\"https:\/\/www.supremesurfacecleaners.com\/blogs\/stonecare\/travertine-care-maintenance-cleaning\"\u003eTravertine Care and Maintenance Tips\u003c\/a\u003e\u003c\/span\u003e\u003c\/li\u003e\n\u003c\/ul\u003e\n\u003cp\u003e \u003c\/p\u003e\n\u003cmeta charset=\"utf-8\"\u003e\u003cmeta charset=\"utf-8\"\u003e\n\u003ch3\u003e\u003cspan\u003e\u003c\/span\u003e\u003c\/h3\u003e\n\u003cp\u003e \u003c\/p\u003e"}
Composite Granite Sink Cleaners Care Maintenance Kit
Composite Granite Sink Cleaners Care Maintenance Kit
Customer Reviews
Write a Review
Ask a Question
Filter Reviews:
sink
cleaner
products
granite
streaks
shipping
home
egranite sink
restoration kit
bottle
05/16/2019
Shirley S.
United States
Saved my sink
I kept looking at my 11 year old composite sink and just hated it. I tried everything I could find and nothing took the streaks and haze off it. So I tried this and whoa! First time it made it look as good as an 11 year old sink can look. I have been applying the second bottle of follow-up spray every day as it says use it daily for 10-14 days and then once a week. I am so happy with the renewed shine and absence of **** on my sink!
01/20/2020
Rachael R.
United States
We have a black granite
We have a black granite composite sink and this worked beautifully to keep it sparkling and like new!
01/19/2020
Penny W.
United States
I tried, I saw, I still need help
The bottle of scrum remover leaked and I poured as much as I could back into the bottle. I watched the video and then cleaned the sink 3 times and altho it looks a little better, not what I was hoping for. I plan to clean it a few more times or whatever is left in the bottle. Took me about 2 hours of scrubbing. Don't know if it was the elbow grease or the product that made the difference. I had high hopes…..
01/19/2020
Supreme Surface Cleaners
We've read your review and attempted to call but had to leave a voicemail. As of this moment we haven't heard back from you. It sounds to me that you have issues above and beyond calcium, lime or soap scum buildup. This is actually common, but beyond the scope of these two products. As described on our product detail page and the instruction pamphlet that came with the product, give us a call at 317-865-0000 and we'll assist you with how to do these types of repairs. We'll have questions, so a brief consultation is necessary before giving a recommended solution. Please note that we do "NOT" charge for this service and but we'll need your cooperation. Give us a call and we'll be happy to assist.
01/18/2020
George G.
United States
**** and Mineral Remover
Seems to have done its job as advertised. Very easy to use
01/11/2020
Ed K.
United States
Great Service
I found Supreme Surface on a web search and after reading the reviews ordered cleaners for a black composite sink. The shipping was fast and the package arrived in good condition. The products and customer service was excellent.
01/09/2020
Glenda S.
United States
Best Granite Composite Cleaners Kit
I started researching how to clean my granite composite sink as it hasn't looked very nice for quite a few years now. I found a video that lead me to Supreme Surface. Loved that I had the video to go back to once I had the product. It was packed well, came fast even after ordering after a holiday! My only qualm is the sprayer. Maybe I didn't screw it on very well but it was leaking and it felt like the trigger mechanism wasn't quite right. I would NOT deduct that from the product in anyway, I know good sprayers are hard to find. Excited to see what the next 10-14 days of using the All-In -One stone Care with ioSeal will continue to do for our 20 year old granite composite sink!! I don't know how long this product has been on the market but I wish I had found it sooner! Thrilled they make a kit specially for GC sinks, I was getting ready to purchase individually but found this kit right before ordering. Thank you!
12/24/2019
Bonnie C.
United States
Great Product!
Have had my black granite composite sink for 2 years now and noticed the white haze about 6 months ago. Tried a few things but nothing worked to remove it. Did some serious internet browsing on the subject. Your website impressed me the most, watched the video on how to clean and polish with your product and thought i'd give your product a try. Couldn't be more pleased. White haze is gone. Sink shines like new. I'm back to loving my sink.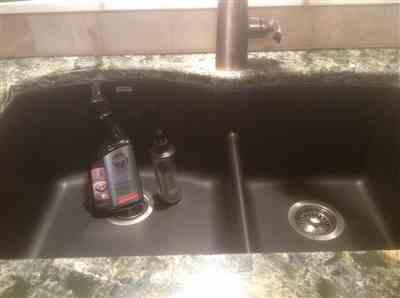 12/14/2019
Patsy L.
United States
Really Works
Needed a cleaner for the white haze on my granite composite sink. Saw this on a YouTube video so I ordered it. My sink is only 5 months old & the haze was light but I didn't want it getting too bad. After one use, my sink looks like it has never been used. The products were well packaged and arrived in perfect shape. I will be keeping this on hand and using it regularly on my investment (sink)