{"id":770758049841,"title":"Composite Granite Sink Cleaners and Restoration Kit","handle":"supreme-surface-cleaners-composite-granite-sink-and-restoration-kit","description":"\u003cdiv style=\"text-align: center;\"\u003e\u003cspan style=\"color: #ff0000;\"\u003e\u003cstrong\u003e\u003c\/strong\u003e\u003c\/span\u003e\u003c\/div\u003e\n\u003cp\u003eSafely clean, restore and maintain the look of composite granite sinks with Supreme Surface®. In a few simple steps you can remove soap scum buildup and power through the white haze caused by mineral deposits. Use the power of ioSeal to help prevent having these issues in the future.\u003c\/p\u003e\n\u003cmeta charset=\"utf-8\"\u003e\u003cmeta charset=\"utf-8\"\u003e\n\u003ch3\u003e\u003cspan\u003eImportant Note:\u003c\/span\u003e\u003c\/h3\u003e\n\u003cp\u003e\u003cspan\u003eAll 24 fl oz spray bottles ship empty, with a full 22 fl oz Refill Buddy to help resist damage during shipping.\u003c\/span\u003e\u003c\/p\u003e\n\u003ch3\u003e\u003cspan\u003eProduct Demonstration:\u003c\/span\u003e\u003c\/h3\u003e\n\u003cdiv class=\"videoWrapper\"\u003e\u003ciframe width=\"504\" height=\"284\" src=\"https:\/\/www.youtube.com\/embed\/sLnZ-oEIGuA?rel=0\" frameborder=\"0\" allow=\"autoplay; encrypted-media\" allowfullscreen=\"\"\u003e\u003c\/iframe\u003e\u003c\/div\u003e\n\u003cp\u003eOne of the most common issues related to black granite composite sinks is how to remove the white haze. If you find yourself facing this dilemma, the following demonstration video offers professional advice, technics and cleaning tips. \u003cstrong\u003eHelpful Links:\u003c\/strong\u003e\u003c\/p\u003e\n\u003cul\u003e\n\u003cli\u003e\u003ca href=\"https:\/\/www.supremesurfacecleaners.com\/blogs\/stonecare\/white-haze-on-granite-composite-sinks\" target=\"_blank\" title=\"White Haze On Composite Granite Sinks\" rel=\"noopener noreferrer\"\u003eWhite Haze On Composite Granite Sinks\u003c\/a\u003e\u003c\/li\u003e\n\u003cli\u003e\u003ca href=\"https:\/\/www.supremesurfacecleaners.com\/blogs\/stonecare\/cleaning-and-proper-care-for-stone-showers-marble-travertine-more\"\u003eCleaning and proper care for stone showers\u003c\/a\u003e\u003c\/li\u003e\n\u003cli\u003e\u003cspan\u003e\u003ca href=\"https:\/\/www.supremesurfacecleaners.com\/blogs\/stonecare\/travertine-care-maintenance-cleaning\"\u003eTravertine Care and Maintenance Tips\u003c\/a\u003e\u003c\/span\u003e\u003c\/li\u003e\n\u003c\/ul\u003e\n\u003cp\u003e \u003c\/p\u003e","published_at":"2018-05-17T17:25:21-05:00","created_at":"2018-05-17T16:42:54-05:00","vendor":"Supreme Surface®","type":"Stone Care","tags":["Best Sellers","composite granite sink cleaners","granite cleaner","granite composite sink cleaner","granite polish","Granite Quartz \u0026 Marble Treatment","granite sealer","ioSeal","Quartz Cleaner","quartz polish","quartz sealer","Remove: Calcium Lime Rust Water Spots Soap Scum","Scum \u0026 Mineral Deposit Remover","stone care","Supreme Surface"],"price":2795,"price_min":2795,"price_max":2795,"available":true,"price_varies":false,"compare_at_price":3190,"compare_at_price_min":3190,"compare_at_price_max":3190,"compare_at_price_varies":false,"variants":[{"id":8706641788977,"title":"Default","option1":"Default","option2":null,"option3":null,"sku":"SS-CP-GQMT.SCM-8B.24B-x1-S","requires_shipping":true,"taxable":true,"featured_image":null,"available":true,"name":"Composite Granite Sink Cleaners and Restoration Kit","public_title":null,"options":["Default"],"price":2795,"weight":1366,"compare_at_price":3190,"inventory_quantity":-554,"inventory_management":null,"inventory_policy":"deny","barcode":""}],"images":["\/\/cdn.shopify.com\/s\/files\/1\/1308\/2761\/products\/composite-granite-sink-cleaners-and-restoration-kit-supreme-surface_908.jpg?v=1567607928"],"featured_image":"\/\/cdn.shopify.com\/s\/files\/1\/1308\/2761\/products\/composite-granite-sink-cleaners-and-restoration-kit-supreme-surface_908.jpg?v=1567607928","options":["Title"],"content":"\u003cdiv style=\"text-align: center;\"\u003e\u003cspan style=\"color: #ff0000;\"\u003e\u003cstrong\u003e\u003c\/strong\u003e\u003c\/span\u003e\u003c\/div\u003e\n\u003cp\u003eSafely clean, restore and maintain the look of composite granite sinks with Supreme Surface®. In a few simple steps you can remove soap scum buildup and power through the white haze caused by mineral deposits. Use the power of ioSeal to help prevent having these issues in the future.\u003c\/p\u003e\n\u003cmeta charset=\"utf-8\"\u003e\u003cmeta charset=\"utf-8\"\u003e\n\u003ch3\u003e\u003cspan\u003eImportant Note:\u003c\/span\u003e\u003c\/h3\u003e\n\u003cp\u003e\u003cspan\u003eAll 24 fl oz spray bottles ship empty, with a full 22 fl oz Refill Buddy to help resist damage during shipping.\u003c\/span\u003e\u003c\/p\u003e\n\u003ch3\u003e\u003cspan\u003eProduct Demonstration:\u003c\/span\u003e\u003c\/h3\u003e\n\u003cdiv class=\"videoWrapper\"\u003e\u003ciframe width=\"504\" height=\"284\" src=\"https:\/\/www.youtube.com\/embed\/sLnZ-oEIGuA?rel=0\" frameborder=\"0\" allow=\"autoplay; encrypted-media\" allowfullscreen=\"\"\u003e\u003c\/iframe\u003e\u003c\/div\u003e\n\u003cp\u003eOne of the most common issues related to black granite composite sinks is how to remove the white haze. If you find yourself facing this dilemma, the following demonstration video offers professional advice, technics and cleaning tips. \u003cstrong\u003eHelpful Links:\u003c\/strong\u003e\u003c\/p\u003e\n\u003cul\u003e\n\u003cli\u003e\u003ca href=\"https:\/\/www.supremesurfacecleaners.com\/blogs\/stonecare\/white-haze-on-granite-composite-sinks\" target=\"_blank\" title=\"White Haze On Composite Granite Sinks\" rel=\"noopener noreferrer\"\u003eWhite Haze On Composite Granite Sinks\u003c\/a\u003e\u003c\/li\u003e\n\u003cli\u003e\u003ca href=\"https:\/\/www.supremesurfacecleaners.com\/blogs\/stonecare\/cleaning-and-proper-care-for-stone-showers-marble-travertine-more\"\u003eCleaning and proper care for stone showers\u003c\/a\u003e\u003c\/li\u003e\n\u003cli\u003e\u003cspan\u003e\u003ca href=\"https:\/\/www.supremesurfacecleaners.com\/blogs\/stonecare\/travertine-care-maintenance-cleaning\"\u003eTravertine Care and Maintenance Tips\u003c\/a\u003e\u003c\/span\u003e\u003c\/li\u003e\n\u003c\/ul\u003e\n\u003cp\u003e \u003c\/p\u003e"}
Composite Granite Sink Cleaners and Restoration Kit
Composite Granite Sink Cleaners and Restoration Kit
Customer Reviews
Filter Reviews:
sink
cleaner
products
granite
streaks
shipping
home
egranite sink
restoration kit
bottle
05/16/2019
Shirley S.
United States
Saved my sink
I kept looking at my 11 year old composite sink and just hated it. I tried everything I could find and nothing took the streaks and haze off it. So I tried this and whoa! First time it made it look as good as an 11 year old sink can look. I have been applying the second bottle of follow-up spray every day as it says use it daily for 10-14 days and then once a week. I am so happy with the renewed shine and absence of **** on my sink!
11/10/2019
Bart P.
United States
IT WORKS !!!!
If you have a gray haze over you black granite sink, BUY THIS, IT WORKS !!!!!!!
11/05/2019
Brian
United States
Great Product and service
My wife was ready to replace our black granite composite sinks as they were starting to show their age. Tried various solutions that we found on the internet but nothing worked to our satisfaction. Stumbled across a video for this product and decided to take a chance and order the Supreme Surface **** and mineral cleaner and the Granite, Quartz and marble treatment. First, the delivery time is super fast. The products are amazing. After using the products for a month now we have basically restored the sinks to their original luster. While the product is not cheap, it is worth every penny!!!
11/04/2019
Gina V.
United States
Like brand new!
The product works perfectly. My sink was full of hard water white stains and after cleaning it with Supreme Surface it looks brand new. Even feels as smooth as it did when I bought the sink almost a year ago!
10/21/2019
Denise D.
United States
It worked!
My very expensive black composite undermounted kitchen sink was unsightly with greyish stains. I was about to go to the expense of replacing it. Yes, I had to apply the product numerous times to get all of the stains out but now the sink looks great. The other product to seal the sink made it look brand new and you can bet I will be sealing it regularly.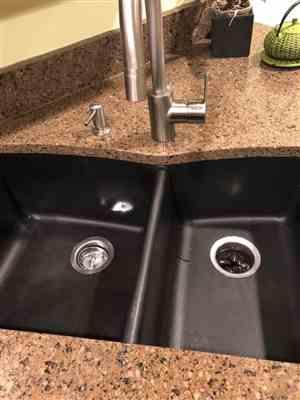 11/05/2019
Supreme Surface Cleaners
Hello Denise, Thank you so much for taking time to leave a product review and a picture of your black granite sink! I'm I'm very confident your sink will now continue to look as good as new for a very long time. Thank you for choosing Supreme Surface! Tom
10/06/2019
ROSEMARY A.
United States
We love your products!
We have been using your products for several month now. We have a black composite sink that was looking really bad. I wanted to replace it but I have granite counter tops and I would probably have to replace them also. My husband did research on the Internet and found your products. We ordered several different ones and after using a combination of several of them, and much determination, our sink looks great. Not like new but enough that we decided it didn't need replacing. Recently you recommended a new product for hardwood floors. I ordered it and just ordered a replacement. Thank you for all your recommendations. We love your products! Rosemary Adee
09/30/2019
Shannon D.
United States
All in one stone care
Good, a lot came off with one cleaning but not completely yet!! Will try again later but so far it looks better.
10/03/2019
Supreme Surface Cleaners
Thanks for leaving a product review. I'm glad to see that your granite sink looks better. It's very common to repeat the process more than once to get the desired result. If you haven't already, please watch the product demonstration video on our product detail page. It's important to us that your sink looks as good as it possibly can. Feel free to give us a call and we'll be happy to assist. Tom
09/01/2019
Allen A.
United States
Product Performance
Results were excellent, I really wasn't expecting much after 1 application, but wow. Would definitely recommend.
10/03/2019
Supreme Surface Cleaners
Thank you for taking time to leave a product review. I hope we continue to earn your business for a long time.