{"id":6359804481,"title":"\"All-In-One Stone Care\": (Cleaner, Polish, Sealer) Granite, Quartz \u0026 Marble Treatment","handle":"supreme-surface-cleaners-all-in-one-stone-care-cleaner-polish-sealer-granite","description":"\u003cmeta charset=\"utf-8\"\u003e\n\u003cp\u003e A multi-tasking powerhouse formulated with \u003cstrong\u003e\u003cem\u003eioSeal™\u003c\/em\u003e\u003c\/strong\u003e to \u003cspan\u003eclean, polish and seal\u003c\/span\u003e. This All-In-One stone care product gives a streak-free shine, every time, even on polished black granite! Safe to use on\u003cspan\u003e \u003c\/span\u003e\u003cspan\u003e\u003cstrong\u003eall natural and engineered stones: \u003c\/strong\u003e\u003c\/span\u003egranite, quartz, marble, \u003cspan\u003ecomposite sinks and more\u003c\/span\u003e.\u003c\/p\u003e\n\u003cmeta charset=\"utf-8\"\u003e\n\u003cul\u003e\n\u003cli\u003eProtect new countertops and revive the old\u003c\/li\u003e\n\u003cli\u003e\u003cspan\u003eProgressively seals with every use\u003c\/span\u003e\u003c\/li\u003e\n\u003cli\u003e\u003cspan\u003eAdds polish without wax, self-leveling, won't buildup and doesn't leave a greasy residue behind\u003c\/span\u003e\u003c\/li\u003e\n\u003cli\u003eMakes colors more vibrant\u003c\/li\u003e\n\u003cli\u003eMakes surfaces smoother, easier to clean, and keep clean\u003c\/li\u003e\n\u003cli\u003e\n\u003cspan\u003epH neutral, \u003c\/span\u003eAlcohol-free, ammonia-free, no harsh chemicals\u003c\/li\u003e\n\u003cli\u003eSimple to use: spray on, wipe off\u003c\/li\u003e\n\u003cli\u003e16\"x16\" High quality Microfiber towel included\u003c\/li\u003e\n\u003cli\u003eFormulated with \u003cstrong\u003e\u003cem\u003eioSeal™ \u003c\/em\u003e\u003c\/strong\u003e \u003c\/li\u003e\n\u003cli\u003e\u003cspan\u003eCurrently ships without the Bonus Pack box that's used for retail store packaging purposes only.\u003c\/span\u003e\u003c\/li\u003e\n\u003c\/ul\u003e\n\u003cp\u003e\u003cspan\u003eEach package ships randomly with one of four colors of microfiber towels: green, orange, yellow or blue.\u003c\/span\u003e\u003c\/p\u003e\n\u003cp\u003e\u003cspan\u003e * Currently ships without the Bonus Pack box that's used for retail store packaging purposes only.\u003c\/span\u003e\u003c\/p\u003e\n\u003cmeta charset=\"utf-8\"\u003e\n\u003ch4\u003eDiscover \"The ioSeal™ Advantage\"\u003c\/h4\u003e\n\u003cp\u003e\u003cspan\u003e\u003cimg src=\"https:\/\/cdn.shopify.com\/s\/files\/1\/1308\/2761\/t\/9\/assets\/ioseal-220x130.jpg\" alt=\"ioseal logo\" data-original=\"https:\/\/cdn.shopify.com\/s\/files\/1\/1308\/2761\/files\/ioseal-220x130_large.jpg?v=1489659015\"\u003e\u003c\/span\u003e\u003c\/p\u003e\n\u003cul class=\"a-unordered-list a-vertical a-spacing-none\"\u003e\n\u003cli\u003e\u003cspan class=\"a-list-item\"\u003e✅\u003cspan style=\"text-decoration: underline;\"\u003e\u003cstrong\u003eIOSEAL ADVANTAGE\u003c\/strong\u003e\u003c\/span\u003e ✅ - No gimmicks or  false \"protection.\" ioSeal ionically bonds to your surface, shielding with every use. As a protective screen, it helps resist incoming stains, making issues like water spots and mineral deposits easier to clean in the future. The barrier fends off damage from UV-fading, while making colors more vibrant. Though it does not replace penetrating sealers, it gives an extra layer of protection, without foul-smelling, dangerous chemicals that penetrating sealers include.\u003c\/span\u003e\u003c\/li\u003e\n\u003c\/ul\u003e\n\u003cul class=\"a-unordered-list a-vertical a-spacing-none\"\u003e\n\u003cli\u003e\u003cspan class=\"a-list-item\"\u003e✅\u003cspan style=\"text-decoration: underline;\"\u003e\u003cstrong\u003eSTREAK-FREE SHINE, EVERY TIME\u003c\/strong\u003e\u003c\/span\u003e ✅ - When buying a granite cleaner and polish, it's difficult to find a streakless product without cloudy smudges. This is because many low-quality cleaning agents, including soap and water, leave residue. This is more evident on polished black granite and Uba Tuba, where dark colors show everything. Our sophisticated formula uses ioSeal's wax-free properties to fight grime and prevent build-up, working efficiently with no greasy residue. Simply spray and wipe.\u003c\/span\u003e\u003c\/li\u003e\n\u003c\/ul\u003e\n\u003cul class=\"a-unordered-list a-vertical a-spacing-none\"\u003e\n\u003cli\u003e🚫\u003cspan style=\"text-decoration: underline;\"\u003e\u003cstrong\u003eWHAT NOT TO EXPECT\u003c\/strong\u003e\u003c\/span\u003e 🚫- Although powerful enough to remove black sharpie from the surface of polished granite, it has chemical limitations. No cleaner can remove every type of mess, no polish can reverse dull or etched surfaces. In order to be safe for engineered stones (quartz countertops) or calcareous stones (marble, travertine, limestone, etc), our cleaner must be pH-neutral. This makes it chemically unable to remove or reverse hard water spots, mineral deposits, or etching.\u003c\/li\u003e\n\u003c\/ul\u003e\n\u003ch3\u003e\u003cstrong\u003eHelpful Links:\u003c\/strong\u003e\u003c\/h3\u003e\n\u003cul\u003e\n\u003cli\u003e\u003ca href=\"\/blogs\/stonecare\/white-haze-on-granite-composite-sinks\" title=\"White Haze On Composite Granite Sinks\"\u003eWhite Haze On Composite Granite Sinks\u003c\/a\u003e\u003c\/li\u003e\n\u003c\/ul\u003e\n\u003ch3\u003eProduct Demonstration:\u003c\/h3\u003e\n\u003cdiv class=\"videoWrapper\"\u003e\u003ciframe width=\"504\" height=\"284\" src=\"https:\/\/www.youtube.com\/embed\/sLnZ-oEIGuA?rel=0\" frameborder=\"0\" allow=\"autoplay; encrypted-media\" allowfullscreen=\"\"\u003e\u003c\/iframe\u003e\u003c\/div\u003e\n\u003cul\u003e\u003c\/ul\u003e","published_at":"2016-05-24T09:47:00-05:00","created_at":"2016-05-24T09:47:42-05:00","vendor":"Supreme Surface®","type":"Granite Quartz Cleaner Polish Sealer","tags":["Best Sellers","granite cleaner","granite polish","Granite Quartz \u0026 Marble Treatment","granite sealer","ioSeal","Quartz Cleaner","quartz polish","quartz sealer","stone care","Supreme Surface"],"price":1695,"price_min":1695,"price_max":3995,"available":true,"price_varies":true,"compare_at_price":0,"compare_at_price_min":0,"compare_at_price_max":0,"compare_at_price_varies":false,"variants":[{"id":3319359045658,"title":"x1 Unit","option1":"x1 Unit","option2":null,"option3":null,"sku":"SS-01A-GQMT-8B-BPx1-S","requires_shipping":true,"taxable":true,"featured_image":{"id":14381025689736,"product_id":6359804481,"position":2,"created_at":"2020-02-05T15:58:36-06:00","updated_at":"2020-04-02T12:13:13-05:00","alt":"All-In-One Stone Care: (Cleaner Polish Sealer) Granite Quartz \u0026 Marble Treatment. This item was formally known as Supreme Surface Granite Cleaner and Conditioner.","width":800,"height":800,"src":"https:\/\/cdn.shopify.com\/s\/files\/1\/1308\/2761\/products\/all-in-one-stone-care-cleaner-polish-sealer-granite-quartz-marble-treatment-supreme-surface-cleaners_209.jpg?v=1585847593","variant_ids":[3319359045658]},"available":true,"name":"\"All-In-One Stone Care\": (Cleaner, Polish, Sealer) Granite, Quartz \u0026 Marble Treatment - x1 Unit","public_title":"x1 Unit","options":["x1 Unit"],"price":1695,"weight":445,"compare_at_price":0,"inventory_quantity":-857,"inventory_management":null,"inventory_policy":"deny","barcode":"71375704003","featured_media":{"alt":"All-In-One Stone Care: (Cleaner Polish Sealer) Granite Quartz \u0026 Marble Treatment. This item was formally known as Supreme Surface Granite Cleaner and Conditioner.","id":6557158473864,"position":2,"preview_image":{"aspect_ratio":1.0,"height":800,"width":800,"src":"https:\/\/cdn.shopify.com\/s\/files\/1\/1308\/2761\/products\/all-in-one-stone-care-cleaner-polish-sealer-granite-quartz-marble-treatment-supreme-surface-cleaners_209.jpg?v=1580939916"}}},{"id":12488579022897,"title":"x3 Pack","option1":"x3 Pack","option2":null,"option3":null,"sku":"SS-01A-GQMT-8B-EFx3-S","requires_shipping":true,"taxable":true,"featured_image":{"id":14381027721352,"product_id":6359804481,"position":10,"created_at":"2020-02-05T15:59:05-06:00","updated_at":"2020-04-02T12:13:10-05:00","alt":"All-In-One Stone Care: (Cleaner Polish Sealer) Granite Quartz \u0026 Marble Treatment","width":800,"height":800,"src":"https:\/\/cdn.shopify.com\/s\/files\/1\/1308\/2761\/products\/all-in-one-stone-care-cleaner-polish-sealer-granite-quartz-marble-treatment-supreme-surface-cleaners_373.jpg?v=1585847590","variant_ids":[12488579022897]},"available":true,"name":"\"All-In-One Stone Care\": (Cleaner, Polish, Sealer) Granite, Quartz \u0026 Marble Treatment - x3 Pack","public_title":"x3 Pack","options":["x3 Pack"],"price":3995,"weight":1304,"compare_at_price":0,"inventory_quantity":-61,"inventory_management":null,"inventory_policy":"deny","barcode":"653341123565","featured_media":{"alt":"All-In-One Stone Care: (Cleaner Polish Sealer) Granite Quartz \u0026 Marble Treatment","id":6557160505480,"position":10,"preview_image":{"aspect_ratio":1.0,"height":800,"width":800,"src":"https:\/\/cdn.shopify.com\/s\/files\/1\/1308\/2761\/products\/all-in-one-stone-care-cleaner-polish-sealer-granite-quartz-marble-treatment-supreme-surface-cleaners_373.jpg?v=1580939945"}}}],"images":["\/\/cdn.shopify.com\/s\/files\/1\/1308\/2761\/products\/eachienobox_598b9c92-1048-475b-8f3d-242623341272.png?v=1585847593","\/\/cdn.shopify.com\/s\/files\/1\/1308\/2761\/products\/all-in-one-stone-care-cleaner-polish-sealer-granite-quartz-marble-treatment-supreme-surface-cleaners_209.jpg?v=1585847593","\/\/cdn.shopify.com\/s\/files\/1\/1308\/2761\/products\/all-in-one-stone-care-cleaner-polish-sealer-granite-quartz-marble-treatment-supreme-surface-cleaners_350.jpg?v=1585847593","\/\/cdn.shopify.com\/s\/files\/1\/1308\/2761\/products\/all-in-one-stone-care-cleaner-polish-sealer-granite-quartz-marble-treatment-supreme-surface-cleaners_157.jpg?v=1585847593","\/\/cdn.shopify.com\/s\/files\/1\/1308\/2761\/products\/all-in-one-stone-care-cleaner-polish-sealer-granite-quartz-marble-treatment-supreme-surface-cleaners_869.jpg?v=1585847590","\/\/cdn.shopify.com\/s\/files\/1\/1308\/2761\/products\/all-in-one-stone-care-cleaner-polish-sealer-granite-quartz-marble-treatment-supreme-surface-cleaners_559.jpg?v=1585847590","\/\/cdn.shopify.com\/s\/files\/1\/1308\/2761\/products\/all-in-one-stone-care-cleaner-polish-sealer-granite-quartz-marble-treatment-supreme-surface-cleaners_637.jpg?v=1585847590","\/\/cdn.shopify.com\/s\/files\/1\/1308\/2761\/products\/all-in-one-stone-care-cleaner-polish-sealer-granite-quartz-marble-treatment-supreme-surface-cleaners_969.jpg?v=1585847590","\/\/cdn.shopify.com\/s\/files\/1\/1308\/2761\/products\/all-in-one-stone-care-cleaner-polish-sealer-granite-quartz-marble-treatment-supreme-surface-cleaners_507.jpg?v=1585847590","\/\/cdn.shopify.com\/s\/files\/1\/1308\/2761\/products\/all-in-one-stone-care-cleaner-polish-sealer-granite-quartz-marble-treatment-supreme-surface-cleaners_373.jpg?v=1585847590","\/\/cdn.shopify.com\/s\/files\/1\/1308\/2761\/products\/eachienobox_89b870c5-a3a9-4405-97ea-5dce612519e4.png?v=1585847585"],"featured_image":"\/\/cdn.shopify.com\/s\/files\/1\/1308\/2761\/products\/eachienobox_598b9c92-1048-475b-8f3d-242623341272.png?v=1585847593","options":["Quantity"],"media":[{"alt":null,"id":7784032108680,"position":1,"preview_image":{"aspect_ratio":1.5,"height":1767,"width":2650,"src":"https:\/\/cdn.shopify.com\/s\/files\/1\/1308\/2761\/products\/eachienobox_598b9c92-1048-475b-8f3d-242623341272.png?v=1585847493"},"aspect_ratio":1.5,"height":1767,"media_type":"image","src":"https:\/\/cdn.shopify.com\/s\/files\/1\/1308\/2761\/products\/eachienobox_598b9c92-1048-475b-8f3d-242623341272.png?v=1585847493","width":2650},{"alt":"All-In-One Stone Care: (Cleaner Polish Sealer) Granite Quartz \u0026 Marble Treatment. This item was formally known as Supreme Surface Granite Cleaner and Conditioner.","id":6557158473864,"position":2,"preview_image":{"aspect_ratio":1.0,"height":800,"width":800,"src":"https:\/\/cdn.shopify.com\/s\/files\/1\/1308\/2761\/products\/all-in-one-stone-care-cleaner-polish-sealer-granite-quartz-marble-treatment-supreme-surface-cleaners_209.jpg?v=1580939916"},"aspect_ratio":1.0,"height":800,"media_type":"image","src":"https:\/\/cdn.shopify.com\/s\/files\/1\/1308\/2761\/products\/all-in-one-stone-care-cleaner-polish-sealer-granite-quartz-marble-treatment-supreme-surface-cleaners_209.jpg?v=1580939916","width":800},{"alt":"All-In-One Stone Care: (Cleaner Polish Sealer) Granite Quartz \u0026 Marble Treatment","id":6557159030920,"position":3,"preview_image":{"aspect_ratio":1.0,"height":800,"width":800,"src":"https:\/\/cdn.shopify.com\/s\/files\/1\/1308\/2761\/products\/all-in-one-stone-care-cleaner-polish-sealer-granite-quartz-marble-treatment-supreme-surface-cleaners_350.jpg?v=1580939922"},"aspect_ratio":1.0,"height":800,"media_type":"image","src":"https:\/\/cdn.shopify.com\/s\/files\/1\/1308\/2761\/products\/all-in-one-stone-care-cleaner-polish-sealer-granite-quartz-marble-treatment-supreme-surface-cleaners_350.jpg?v=1580939922","width":800},{"alt":"All-In-One Stone Care: (Cleaner Polish Sealer) Granite Quartz \u0026 Marble Treatment","id":6557159489672,"position":4,"preview_image":{"aspect_ratio":1.0,"height":800,"width":800,"src":"https:\/\/cdn.shopify.com\/s\/files\/1\/1308\/2761\/products\/all-in-one-stone-care-cleaner-polish-sealer-granite-quartz-marble-treatment-supreme-surface-cleaners_157.jpg?v=1580939928"},"aspect_ratio":1.0,"height":800,"media_type":"image","src":"https:\/\/cdn.shopify.com\/s\/files\/1\/1308\/2761\/products\/all-in-one-stone-care-cleaner-polish-sealer-granite-quartz-marble-treatment-supreme-surface-cleaners_157.jpg?v=1580939928","width":800},{"alt":"All-In-One Stone Care: (Cleaner Polish Sealer) Granite Quartz \u0026 Marble Treatment","id":6557159653512,"position":5,"preview_image":{"aspect_ratio":1.0,"height":800,"width":800,"src":"https:\/\/cdn.shopify.com\/s\/files\/1\/1308\/2761\/products\/all-in-one-stone-care-cleaner-polish-sealer-granite-quartz-marble-treatment-supreme-surface-cleaners_869.jpg?v=1580939934"},"aspect_ratio":1.0,"height":800,"media_type":"image","src":"https:\/\/cdn.shopify.com\/s\/files\/1\/1308\/2761\/products\/all-in-one-stone-care-cleaner-polish-sealer-granite-quartz-marble-treatment-supreme-surface-cleaners_869.jpg?v=1580939934","width":800},{"alt":"All-In-One Stone Care: (Cleaner Polish Sealer) Granite Quartz \u0026 Marble Treatment","id":6557159981192,"position":6,"preview_image":{"aspect_ratio":1.0,"height":800,"width":800,"src":"https:\/\/cdn.shopify.com\/s\/files\/1\/1308\/2761\/products\/all-in-one-stone-care-cleaner-polish-sealer-granite-quartz-marble-treatment-supreme-surface-cleaners_559.jpg?v=1580939939"},"aspect_ratio":1.0,"height":800,"media_type":"image","src":"https:\/\/cdn.shopify.com\/s\/files\/1\/1308\/2761\/products\/all-in-one-stone-care-cleaner-polish-sealer-granite-quartz-marble-treatment-supreme-surface-cleaners_559.jpg?v=1580939939","width":800},{"alt":"All-In-One Stone Carefor quartz granite countertop cleaner polish sealer smoother polished by polishing with polish making colors best or better than when when used as daily with streakless or streak free.","id":116900757553,"position":7,"preview_image":{"aspect_ratio":1.0,"height":800,"width":800,"src":"https:\/\/cdn.shopify.com\/s\/files\/1\/1308\/2761\/products\/all-in-one-stone-care-cleaner-polish-sealer-granite-quartz-marble-treatment-supreme-surface-cleaners_637.jpg?v=1568832426"},"aspect_ratio":1.0,"height":800,"media_type":"image","src":"https:\/\/cdn.shopify.com\/s\/files\/1\/1308\/2761\/products\/all-in-one-stone-care-cleaner-polish-sealer-granite-quartz-marble-treatment-supreme-surface-cleaners_637.jpg?v=1568832426","width":800},{"alt":"All-In-One Stone Care as cleaning formula with ioSeal protectants for granite quartz counter vanity shower seat. ","id":116900790321,"position":8,"preview_image":{"aspect_ratio":1.0,"height":800,"width":800,"src":"https:\/\/cdn.shopify.com\/s\/files\/1\/1308\/2761\/products\/all-in-one-stone-care-cleaner-polish-sealer-granite-quartz-marble-treatment-supreme-surface-cleaners_969.jpg?v=1568832426"},"aspect_ratio":1.0,"height":800,"media_type":"image","src":"https:\/\/cdn.shopify.com\/s\/files\/1\/1308\/2761\/products\/all-in-one-stone-care-cleaner-polish-sealer-granite-quartz-marble-treatment-supreme-surface-cleaners_969.jpg?v=1568832426","width":800},{"alt":"cleans polishes seals granite quartz travertine kitchen countertops, composite sinks vanity top and more with ioseal protectant","id":116900823089,"position":9,"preview_image":{"aspect_ratio":1.0,"height":800,"width":800,"src":"https:\/\/cdn.shopify.com\/s\/files\/1\/1308\/2761\/products\/all-in-one-stone-care-cleaner-polish-sealer-granite-quartz-marble-treatment-supreme-surface-cleaners_507.jpg?v=1568832426"},"aspect_ratio":1.0,"height":800,"media_type":"image","src":"https:\/\/cdn.shopify.com\/s\/files\/1\/1308\/2761\/products\/all-in-one-stone-care-cleaner-polish-sealer-granite-quartz-marble-treatment-supreme-surface-cleaners_507.jpg?v=1568832426","width":800},{"alt":"All-In-One Stone Care: (Cleaner Polish Sealer) Granite Quartz \u0026 Marble Treatment","id":6557160505480,"position":10,"preview_image":{"aspect_ratio":1.0,"height":800,"width":800,"src":"https:\/\/cdn.shopify.com\/s\/files\/1\/1308\/2761\/products\/all-in-one-stone-care-cleaner-polish-sealer-granite-quartz-marble-treatment-supreme-surface-cleaners_373.jpg?v=1580939945"},"aspect_ratio":1.0,"height":800,"media_type":"image","src":"https:\/\/cdn.shopify.com\/s\/files\/1\/1308\/2761\/products\/all-in-one-stone-care-cleaner-polish-sealer-granite-quartz-marble-treatment-supreme-surface-cleaners_373.jpg?v=1580939945","width":800},{"alt":null,"id":7784049049736,"position":11,"preview_image":{"aspect_ratio":1.5,"height":1767,"width":2650,"src":"https:\/\/cdn.shopify.com\/s\/files\/1\/1308\/2761\/products\/eachienobox_89b870c5-a3a9-4405-97ea-5dce612519e4.png?v=1585847564"},"aspect_ratio":1.5,"height":1767,"media_type":"image","src":"https:\/\/cdn.shopify.com\/s\/files\/1\/1308\/2761\/products\/eachienobox_89b870c5-a3a9-4405-97ea-5dce612519e4.png?v=1585847564","width":2650}],"content":"\u003cmeta charset=\"utf-8\"\u003e\n\u003cp\u003e A multi-tasking powerhouse formulated with \u003cstrong\u003e\u003cem\u003eioSeal™\u003c\/em\u003e\u003c\/strong\u003e to \u003cspan\u003eclean, polish and seal\u003c\/span\u003e. This All-In-One stone care product gives a streak-free shine, every time, even on polished black granite! Safe to use on\u003cspan\u003e \u003c\/span\u003e\u003cspan\u003e\u003cstrong\u003eall natural and engineered stones: \u003c\/strong\u003e\u003c\/span\u003egranite, quartz, marble, \u003cspan\u003ecomposite sinks and more\u003c\/span\u003e.\u003c\/p\u003e\n\u003cmeta charset=\"utf-8\"\u003e\n\u003cul\u003e\n\u003cli\u003eProtect new countertops and revive the old\u003c\/li\u003e\n\u003cli\u003e\u003cspan\u003eProgressively seals with every use\u003c\/span\u003e\u003c\/li\u003e\n\u003cli\u003e\u003cspan\u003eAdds polish without wax, self-leveling, won't buildup and doesn't leave a greasy residue behind\u003c\/span\u003e\u003c\/li\u003e\n\u003cli\u003eMakes colors more vibrant\u003c\/li\u003e\n\u003cli\u003eMakes surfaces smoother, easier to clean, and keep clean\u003c\/li\u003e\n\u003cli\u003e\n\u003cspan\u003epH neutral, \u003c\/span\u003eAlcohol-free, ammonia-free, no harsh chemicals\u003c\/li\u003e\n\u003cli\u003eSimple to use: spray on, wipe off\u003c\/li\u003e\n\u003cli\u003e16\"x16\" High quality Microfiber towel included\u003c\/li\u003e\n\u003cli\u003eFormulated with \u003cstrong\u003e\u003cem\u003eioSeal™ \u003c\/em\u003e\u003c\/strong\u003e \u003c\/li\u003e\n\u003cli\u003e\u003cspan\u003eCurrently ships without the Bonus Pack box that's used for retail store packaging purposes only.\u003c\/span\u003e\u003c\/li\u003e\n\u003c\/ul\u003e\n\u003cp\u003e\u003cspan\u003eEach package ships randomly with one of four colors of microfiber towels: green, orange, yellow or blue.\u003c\/span\u003e\u003c\/p\u003e\n\u003cp\u003e\u003cspan\u003e * Currently ships without the Bonus Pack box that's used for retail store packaging purposes only.\u003c\/span\u003e\u003c\/p\u003e\n\u003cmeta charset=\"utf-8\"\u003e\n\u003ch4\u003eDiscover \"The ioSeal™ Advantage\"\u003c\/h4\u003e\n\u003cp\u003e\u003cspan\u003e\u003cimg src=\"https:\/\/cdn.shopify.com\/s\/files\/1\/1308\/2761\/t\/9\/assets\/ioseal-220x130.jpg\" alt=\"ioseal logo\" data-original=\"https:\/\/cdn.shopify.com\/s\/files\/1\/1308\/2761\/files\/ioseal-220x130_large.jpg?v=1489659015\"\u003e\u003c\/span\u003e\u003c\/p\u003e\n\u003cul class=\"a-unordered-list a-vertical a-spacing-none\"\u003e\n\u003cli\u003e\u003cspan class=\"a-list-item\"\u003e✅\u003cspan style=\"text-decoration: underline;\"\u003e\u003cstrong\u003eIOSEAL ADVANTAGE\u003c\/strong\u003e\u003c\/span\u003e ✅ - No gimmicks or  false \"protection.\" ioSeal ionically bonds to your surface, shielding with every use. As a protective screen, it helps resist incoming stains, making issues like water spots and mineral deposits easier to clean in the future. The barrier fends off damage from UV-fading, while making colors more vibrant. Though it does not replace penetrating sealers, it gives an extra layer of protection, without foul-smelling, dangerous chemicals that penetrating sealers include.\u003c\/span\u003e\u003c\/li\u003e\n\u003c\/ul\u003e\n\u003cul class=\"a-unordered-list a-vertical a-spacing-none\"\u003e\n\u003cli\u003e\u003cspan class=\"a-list-item\"\u003e✅\u003cspan style=\"text-decoration: underline;\"\u003e\u003cstrong\u003eSTREAK-FREE SHINE, EVERY TIME\u003c\/strong\u003e\u003c\/span\u003e ✅ - When buying a granite cleaner and polish, it's difficult to find a streakless product without cloudy smudges. This is because many low-quality cleaning agents, including soap and water, leave residue. This is more evident on polished black granite and Uba Tuba, where dark colors show everything. Our sophisticated formula uses ioSeal's wax-free properties to fight grime and prevent build-up, working efficiently with no greasy residue. Simply spray and wipe.\u003c\/span\u003e\u003c\/li\u003e\n\u003c\/ul\u003e\n\u003cul class=\"a-unordered-list a-vertical a-spacing-none\"\u003e\n\u003cli\u003e🚫\u003cspan style=\"text-decoration: underline;\"\u003e\u003cstrong\u003eWHAT NOT TO EXPECT\u003c\/strong\u003e\u003c\/span\u003e 🚫- Although powerful enough to remove black sharpie from the surface of polished granite, it has chemical limitations. No cleaner can remove every type of mess, no polish can reverse dull or etched surfaces. In order to be safe for engineered stones (quartz countertops) or calcareous stones (marble, travertine, limestone, etc), our cleaner must be pH-neutral. This makes it chemically unable to remove or reverse hard water spots, mineral deposits, or etching.\u003c\/li\u003e\n\u003c\/ul\u003e\n\u003ch3\u003e\u003cstrong\u003eHelpful Links:\u003c\/strong\u003e\u003c\/h3\u003e\n\u003cul\u003e\n\u003cli\u003e\u003ca href=\"\/blogs\/stonecare\/white-haze-on-granite-composite-sinks\" title=\"White Haze On Composite Granite Sinks\"\u003eWhite Haze On Composite Granite Sinks\u003c\/a\u003e\u003c\/li\u003e\n\u003c\/ul\u003e\n\u003ch3\u003eProduct Demonstration:\u003c\/h3\u003e\n\u003cdiv class=\"videoWrapper\"\u003e\u003ciframe width=\"504\" height=\"284\" src=\"https:\/\/www.youtube.com\/embed\/sLnZ-oEIGuA?rel=0\" frameborder=\"0\" allow=\"autoplay; encrypted-media\" allowfullscreen=\"\"\u003e\u003c\/iframe\u003e\u003c\/div\u003e\n\u003cul\u003e\u003c\/ul\u003e"}
"All-In-One Stone Care": (Cleaner, Polish, Sealer) Granite, Quartz & Marble Treatment
"All-In-One Stone Care": (Cleaner, Polish, Sealer) Granite, Quartz & Marble Treatment
Customer Reviews
Write a Review
Ask a Question
Filter Reviews:
cleaner
products
application
others
granite countertops
counters sparkle
countertop
granite
streaks
polish
06/20/2019
Jenny O.
United States
Great Service/Great Product
Wow! My experience with ordering, and receiving, my product was fantastic. The turn around time from ordering to receiving was so fast. I was impressed at how well the product was packed for delivery. The product I ordered, "All In One Stone Care," works so well on my granite. After each use, my granite always feels so smooth. Great job! Jenny O.
06/22/2019
Supreme Surface Cleaners
Hello Jenny, thank you for the wonderful review! We're happy to see that you had a good experience with our products, delivery and packaging. I'm also glad to see that our Granite, Quartz and Marble Treatment helps make your granite countertop smoother! We would live to see a picture of your kitchen granite!!
08/06/2018
Debbie T.
United States
Great Product
This All-in-One Granite, Quartz & Marble Treatment is great to use. Counter tops feel and look like new! So easy to use.
04/06/2020
Jim G.
United States
Very Satisfied
Long time user of this product. Order was to replace my refill
03/31/2020
Richard F.
United States
Superb Products
I have been purchasing the "all-in-one" and "daily cleaner" for the last 5 years from Supreme Surfaces Inc. and my granite kitchen sinks, and granite bathroom and kitchen counter tops look great. Sealed and new looking. Service is also outstanding.
03/28/2020
Tim M.
United States
Nice job of keeping our granite countertops looking great
We were given a kit when we had our granite countertops installed Gordon Creek Granite in Hicksville. The item was packaged well and arrived in perfect condition. We searched online so that we could have it shipped nice feature. The product does a nice job of keeping our granite countertops looking great.
03/24/2020
Chelsea F.
United States
Granite cleaner
I tried Supreme Surface cleaner and sealant and I absolutely love it! My fiancé thought I was crazy when I got excited over this cleaner so I cleaned one counter with it and left one without it to show the difference to my fiancé, and he couldn't believe how this product left the surface feeling so soft and sealed. You can tell who cleans the most. My bottle also has lasted me almost a year! I love it. Here's my bottle at the end of its life so I just ordered more and also trying the multi surface cleaner! Thanks for creating such an awesome surface cleaner.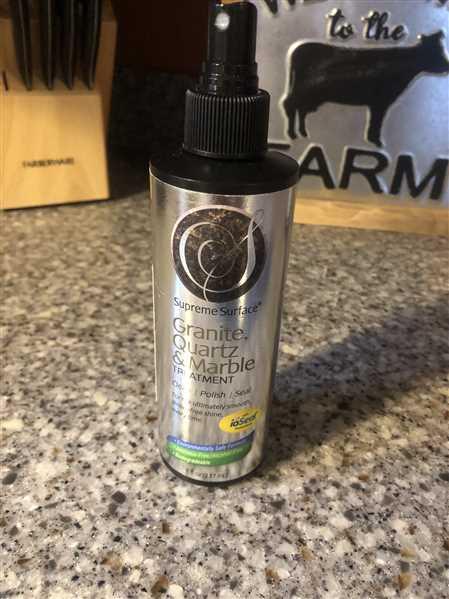 03/19/2020
Allyson K.
United States
Amazing product!
We bought the Supreme Granite, Quartz, and Marble Treatment refill for our granite countertops. We remodled our kitchen, adding the granite countertops, in 2017 and have repurchased this treatment time and again to help keep our granite looking brand new. Our order came in just 3 days and our package was packed with care. We even had a hand written "thank you" note. The product itself smells amazing and does an incredible job with sealing the granite. I HIGHLY recommend this product and company. We are lifetime customers.
03/16/2020
Donald C.
United States
Stone protection
We have been using this product ever since we purchased the granite counter tops we bought it from the stone distributor they were out so I ordered it direct from the name on the container.great product