{"id":6359802625,"title":"Calcium, Lime, Rust and Soap Scum Remover","handle":"supreme-surface-cleaners-calcium-lime-rust-and-soap-scum-remover","description":"\u003cspan style=\"font-family: verdana, arial, helvetica, sans-serif; font-size: small;\"\u003eCTP Multi-Surface \"\u003cspan style=\"text-decoration: underline;\"\u003eCalcium, Lime, Rust and Soap Scum Remover\u003c\/span\u003e\" effectively cleans and removes hard water spots, limescale, mineral deposits, soap scum, wax and residues left behind from other cleaners. \u003c\/span\u003e \u003cbr\u003e\u003cspan style=\"font-family: verdana, arial, helvetica, sans-serif; font-size: small;\"\u003eSafe and recommended to use on:\u003c\/span\u003e\n\u003cul\u003e\n\u003cli\u003eGlass Shower Doors\u003c\/li\u003e\n\u003cli\u003ePlumbing Fixtures\u003c\/li\u003e\n\u003cli\u003eComposite sinks\u003c\/li\u003e\n\u003cli\u003eStainless steel sinks and appliances\u003c\/li\u003e\n\u003cli\u003eKitchen countertops\u003c\/li\u003e\n\u003cli\u003eTile\u003c\/li\u003e\n\u003cli\u003eGrout and more. \u003c\/li\u003e\n\u003c\/ul\u003e\n\u003cmeta charset=\"utf-8\"\u003e\n\u003ch3\u003e\u003cspan\u003e\u003c\/span\u003e\u003c\/h3\u003e\n\u003ch3\u003eProduct Demonstration:\u003c\/h3\u003e\n\u003cdiv class=\"videoWrapper\"\u003e\u003ciframe width=\"504\" height=\"284\" src=\"https:\/\/www.youtube.com\/embed\/WS6OccX3QoE?rel=0\" frameborder=\"0\" allow=\"autoplay; encrypted-media\" allowfullscreen=\"\"\u003e\u003c\/iframe\u003e\u003c\/div\u003e\n\u003cp\u003e\u003cbr\u003e\u003c\/p\u003e\n\u003cp\u003e\u003cb style=\"font-family: verdana, arial, helvetica, sans-serif; font-size: small;\"\u003eDiscover the Difference:\u003c\/b\u003e\u003cspan style=\"font-family: verdana, arial, helvetica, sans-serif; font-size: small;\"\u003e Although \u003cspan\u003eCTP Multi-Surface \"Calcium, Lime, Rust and Soap Scum Remover\"\u003c\/span\u003e has similar qualities to other leading brands, it isn't as harsh or abrasive. Here are some of the qualities of our active ingredient, Malic Acid:\u003c\/span\u003e\u003c\/p\u003e\n\u003cul\u003e\n\u003cli\u003e\"Slow\" acting but highly effective, reducing exposure to causing damage\u003c\/li\u003e\n\u003cli\u003eNaturally breaks down minerals found in hard water\u003c\/li\u003e\n\u003cli\u003eMalic acid is 100% naturally derived and comes from unripened apples and cherries\u003c\/li\u003e\n\u003c\/ul\u003e\nCTP Multi-Surface: Better for you! Better for your surfaces! Better for our environment!","published_at":"2016-05-24T09:47:00-05:00","created_at":"2016-05-24T09:47:33-05:00","vendor":"CTP Brand","type":"Multi-Surface","tags":[],"price":1495,"price_min":1495,"price_max":1495,"available":true,"price_varies":false,"compare_at_price":null,"compare_at_price_min":0,"compare_at_price_max":0,"compare_at_price_varies":false,"variants":[{"id":19829410497,"title":"Default","option1":"Default","option2":null,"option3":null,"sku":"CTP-03C-CLRS-24B-x1-S","requires_shipping":true,"taxable":true,"featured_image":null,"available":true,"name":"Calcium, Lime, Rust and Soap Scum Remover","public_title":null,"options":["Default"],"price":1495,"weight":808,"compare_at_price":null,"inventory_quantity":-6,"inventory_management":null,"inventory_policy":"deny","barcode":"713757040433"}],"images":["\/\/cdn.shopify.com\/s\/files\/1\/1308\/2761\/products\/calcium-lime-rust-and-soap-scum-remover-supreme-surface-cleaners_818.jpg?v=1588610003","\/\/cdn.shopify.com\/s\/files\/1\/1308\/2761\/products\/calcium-lime-rust-and-soap-scum-remover-supreme-surface-cleaners_782.jpg?v=1588610003"],"featured_image":"\/\/cdn.shopify.com\/s\/files\/1\/1308\/2761\/products\/calcium-lime-rust-and-soap-scum-remover-supreme-surface-cleaners_818.jpg?v=1588610003","options":["Title"],"media":[{"alt":"Calcium Lime Rust and Soap Scum Remover","id":116900560945,"position":1,"preview_image":{"aspect_ratio":1.0,"height":800,"width":800,"src":"https:\/\/cdn.shopify.com\/s\/files\/1\/1308\/2761\/products\/calcium-lime-rust-and-soap-scum-remover-supreme-surface-cleaners_818.jpg?v=1568832426"},"aspect_ratio":1.0,"height":800,"media_type":"image","src":"https:\/\/cdn.shopify.com\/s\/files\/1\/1308\/2761\/products\/calcium-lime-rust-and-soap-scum-remover-supreme-surface-cleaners_818.jpg?v=1568832426","width":800},{"alt":"Calcium Lime Rust and Soap Scum Remover","id":116900593713,"position":2,"preview_image":{"aspect_ratio":1.0,"height":800,"width":800,"src":"https:\/\/cdn.shopify.com\/s\/files\/1\/1308\/2761\/products\/calcium-lime-rust-and-soap-scum-remover-supreme-surface-cleaners_782.jpg?v=1568832426"},"aspect_ratio":1.0,"height":800,"media_type":"image","src":"https:\/\/cdn.shopify.com\/s\/files\/1\/1308\/2761\/products\/calcium-lime-rust-and-soap-scum-remover-supreme-surface-cleaners_782.jpg?v=1568832426","width":800}],"content":"\u003cspan style=\"font-family: verdana, arial, helvetica, sans-serif; font-size: small;\"\u003eCTP Multi-Surface \"\u003cspan style=\"text-decoration: underline;\"\u003eCalcium, Lime, Rust and Soap Scum Remover\u003c\/span\u003e\" effectively cleans and removes hard water spots, limescale, mineral deposits, soap scum, wax and residues left behind from other cleaners. \u003c\/span\u003e \u003cbr\u003e\u003cspan style=\"font-family: verdana, arial, helvetica, sans-serif; font-size: small;\"\u003eSafe and recommended to use on:\u003c\/span\u003e\n\u003cul\u003e\n\u003cli\u003eGlass Shower Doors\u003c\/li\u003e\n\u003cli\u003ePlumbing Fixtures\u003c\/li\u003e\n\u003cli\u003eComposite sinks\u003c\/li\u003e\n\u003cli\u003eStainless steel sinks and appliances\u003c\/li\u003e\n\u003cli\u003eKitchen countertops\u003c\/li\u003e\n\u003cli\u003eTile\u003c\/li\u003e\n\u003cli\u003eGrout and more. \u003c\/li\u003e\n\u003c\/ul\u003e\n\u003cmeta charset=\"utf-8\"\u003e\n\u003ch3\u003e\u003cspan\u003e\u003c\/span\u003e\u003c\/h3\u003e\n\u003ch3\u003eProduct Demonstration:\u003c\/h3\u003e\n\u003cdiv class=\"videoWrapper\"\u003e\u003ciframe width=\"504\" height=\"284\" src=\"https:\/\/www.youtube.com\/embed\/WS6OccX3QoE?rel=0\" frameborder=\"0\" allow=\"autoplay; encrypted-media\" allowfullscreen=\"\"\u003e\u003c\/iframe\u003e\u003c\/div\u003e\n\u003cp\u003e\u003cbr\u003e\u003c\/p\u003e\n\u003cp\u003e\u003cb style=\"font-family: verdana, arial, helvetica, sans-serif; font-size: small;\"\u003eDiscover the Difference:\u003c\/b\u003e\u003cspan style=\"font-family: verdana, arial, helvetica, sans-serif; font-size: small;\"\u003e Although \u003cspan\u003eCTP Multi-Surface \"Calcium, Lime, Rust and Soap Scum Remover\"\u003c\/span\u003e has similar qualities to other leading brands, it isn't as harsh or abrasive. Here are some of the qualities of our active ingredient, Malic Acid:\u003c\/span\u003e\u003c\/p\u003e\n\u003cul\u003e\n\u003cli\u003e\"Slow\" acting but highly effective, reducing exposure to causing damage\u003c\/li\u003e\n\u003cli\u003eNaturally breaks down minerals found in hard water\u003c\/li\u003e\n\u003cli\u003eMalic acid is 100% naturally derived and comes from unripened apples and cherries\u003c\/li\u003e\n\u003c\/ul\u003e\nCTP Multi-Surface: Better for you! Better for your surfaces! Better for our environment!"}
Calcium, Lime, Rust and Soap Scum Remover
Calcium, Lime, Rust and Soap Scum Remover
Customer Reviews
Write a Review
Ask a Question
Filter Reviews:
experience
needs
everything
grout
shower tile floor
scrubbing
wall tiles
best
05/06/2020
Beverly S.
United States
Impressive Product!
This is my first time purchasing this product. I bought it to clean my shower heads and other bathroom hardware that is exposed to water. All water stains cleared up and everything looks brand new. I also used this product to clean the kitchen stainless steel double sink and the glass carafe to the coffee maker. Immediate results in the first use! I am impressed!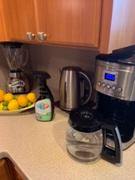 12/31/2019
Robert H.
United States
Supreme Surface (Finally products that work as promised)!
My overall experience with Supreme Surface products was superb. I ordered their cleaning product "CTP" and was extremely pleased with its performance. All of the calcium and soap **** deposits are gone from my shower tiles and I could not be more pleased with the beautiful results. Bob H. Bend, OR
07/14/2019
Rhonda T.
United States
Helped a Lot!
The buildup remover helped a lot, but the polish mad the biggest difference!
06/08/2019
Sally K.
United States
Great experience
Everything I ordered was perfect for my needs. Ordering and receiving experience was the best. No Problems. Great job.
06/22/2019
Supreme Surface Cleaners
Hello Sally, thank you so much for the feedback. As a new customer we're glad to see that your ordering experience was the best it could be and perfect for your needs! Keep in mind that all the of the products that you ordered so far (including this one) are available in Refill Buddies.
CTP Calcium, Lime, Rust and Soap **** Remover - GREAT CLEANER!
My shower tile floor and grout never looked cleaner! After spraying, letting it sit for about 15-20 minutes, it was clean with minimal scrubbing. Tile floor/grout never looked this clean. Now I am moving on to the wall tiles and feel confident it will tackle this job as well.
Super lime deposit remover
This is great stuff — removes lime deposits using the same acid that is in apples (malic). Very mild and does not attack brass or marble like citric and other acids do.
Removes mineral deposits from shower door, fixtures, laundry room sink
When it comes to removidng lime-like mineral deposits on shower door and future, CTP worked better than any other cleaner without attacking the metal. Also cleaned deposits off the fiberglass laundry room sink that didn't want to come off with anything else. If deposits are heavy, I found that the best thing is to spray and let the stuff set for a couple of hours, then scrub lightly. Repeat if needed.