{"id":9949469965,"title":"Microfiber Cloths, 16\" x 16\", 3 Pack","handle":"supreme-surface-cleaners-microfiber-cloths-16-x-3-pack","description":"\u003cp\u003eSupreme Surface® \"\u003cspan style=\"text-decoration: underline;\"\u003eMicrofiber Cloths\u003c\/span\u003e\" are 100% machine washable and ideal for cleaning, drying, dusting and polishing. Safe to use on natural stone, stainless steel, automobiles, RV's and much more.\u003c\/p\u003e\n\u003cul\u003e\n\u003cli\u003eSold as a 3 pack\u003c\/li\u003e\n\u003cli\u003eAssorted colors: Orange, Yellow, Green and Blue\u003c\/li\u003e\n\u003cli\u003eScratch-free microfibers\u003c\/li\u003e\n\u003cli\u003eLint free and ultra absorbent\u003c\/li\u003e\n\u003cli\u003eEach microfiber towel measures: 16\" x 16\" (40 cm x 40 cm)\u003c\/li\u003e\n\u003cli\u003e80% polyester, 20% polyamide\u003c\/li\u003e\n\u003c\/ul\u003e\n\u003cp\u003e\u003cspan\u003e\u003cstrong\u003eCare Instructions\u003c\/strong\u003e: Hand or machine wash in warm water with like colors. Do not use fabric softener or chlorine bleach. Air drying is recommend! Do not iron.\u003c\/span\u003e\u003c\/p\u003e","published_at":"2017-05-13T12:05:39-05:00","created_at":"2017-05-11T11:29:38-05:00","vendor":"Supreme Surface®","type":"Microfiber Cloths","tags":[],"price":500,"price_min":500,"price_max":500,"available":true,"price_varies":false,"compare_at_price":null,"compare_at_price_min":0,"compare_at_price_max":0,"compare_at_price_varies":false,"variants":[{"id":37295090317,"title":"Yellow","option1":"Yellow","option2":null,"option3":null,"sku":"MFT-Y-x3-S","requires_shipping":true,"taxable":true,"featured_image":{"id":6930011586609,"product_id":9949469965,"position":2,"created_at":"2019-09-04T12:32:43-05:00","updated_at":"2019-09-04T12:32:43-05:00","alt":"Microfiber Cloths 16 x 16 3 Pack - Yellow","width":800,"height":800,"src":"https:\/\/cdn.shopify.com\/s\/files\/1\/1308\/2761\/products\/microfiber-cloths-16-x-3-pack-supreme-surface-cleaners_156.jpg?v=1567618363","variant_ids":[37295090317]},"available":true,"name":"Microfiber Cloths, 16\" x 16\", 3 Pack - Yellow","public_title":"Yellow","options":["Yellow"],"price":500,"weight":0,"compare_at_price":null,"inventory_quantity":-51,"inventory_management":null,"inventory_policy":"deny","barcode":"","featured_media":{"alt":"Microfiber Cloths 16 x 16 3 Pack - Yellow","id":3022029095048,"position":2,"preview_image":{"aspect_ratio":1.0,"height":800,"width":800,"src":"https:\/\/cdn.shopify.com\/s\/files\/1\/1308\/2761\/products\/microfiber-cloths-16-x-3-pack-supreme-surface-cleaners_156.jpg?v=1570063275"}}},{"id":37295090381,"title":"Blue","option1":"Blue","option2":null,"option3":null,"sku":"MFT-B-x3-S","requires_shipping":true,"taxable":true,"featured_image":{"id":6930011619377,"product_id":9949469965,"position":3,"created_at":"2019-09-04T12:32:43-05:00","updated_at":"2019-09-04T12:32:43-05:00","alt":"Microfiber Cloths 16 x 16 3 Pack - Blue","width":800,"height":800,"src":"https:\/\/cdn.shopify.com\/s\/files\/1\/1308\/2761\/products\/microfiber-cloths-16-x-3-pack-supreme-surface-cleaners_888.jpg?v=1567618363","variant_ids":[37295090381]},"available":true,"name":"Microfiber Cloths, 16\" x 16\", 3 Pack - Blue","public_title":"Blue","options":["Blue"],"price":500,"weight":0,"compare_at_price":null,"inventory_quantity":-42,"inventory_management":null,"inventory_policy":"deny","barcode":"","featured_media":{"alt":"Microfiber Cloths 16 x 16 3 Pack - Blue","id":3022029127816,"position":3,"preview_image":{"aspect_ratio":1.0,"height":800,"width":800,"src":"https:\/\/cdn.shopify.com\/s\/files\/1\/1308\/2761\/products\/microfiber-cloths-16-x-3-pack-supreme-surface-cleaners_888.jpg?v=1570063275"}}},{"id":37295090445,"title":"Green","option1":"Green","option2":null,"option3":null,"sku":"MFT-G-x3-S","requires_shipping":true,"taxable":true,"featured_image":{"id":6930011652145,"product_id":9949469965,"position":4,"created_at":"2019-09-04T12:32:43-05:00","updated_at":"2019-09-04T12:32:43-05:00","alt":"Microfiber Cloths 16 x 16 3 Pack - Green","width":800,"height":800,"src":"https:\/\/cdn.shopify.com\/s\/files\/1\/1308\/2761\/products\/microfiber-cloths-16-x-3-pack-supreme-surface-cleaners_807.jpg?v=1567618363","variant_ids":[37295090445]},"available":true,"name":"Microfiber Cloths, 16\" x 16\", 3 Pack - Green","public_title":"Green","options":["Green"],"price":500,"weight":0,"compare_at_price":null,"inventory_quantity":-23,"inventory_management":null,"inventory_policy":"deny","barcode":"","featured_media":{"alt":"Microfiber Cloths 16 x 16 3 Pack - Green","id":3022029160584,"position":4,"preview_image":{"aspect_ratio":1.0,"height":800,"width":800,"src":"https:\/\/cdn.shopify.com\/s\/files\/1\/1308\/2761\/products\/microfiber-cloths-16-x-3-pack-supreme-surface-cleaners_807.jpg?v=1570063275"}}},{"id":37295090509,"title":"Orange","option1":"Orange","option2":null,"option3":null,"sku":"MFT-O-x3-S","requires_shipping":true,"taxable":true,"featured_image":{"id":6930011684913,"product_id":9949469965,"position":5,"created_at":"2019-09-04T12:32:43-05:00","updated_at":"2019-09-04T12:32:43-05:00","alt":"Microfiber Cloths 16 x 16 3 Pack - Orange","width":800,"height":800,"src":"https:\/\/cdn.shopify.com\/s\/files\/1\/1308\/2761\/products\/microfiber-cloths-16-x-3-pack-supreme-surface-cleaners_371.jpg?v=1567618363","variant_ids":[37295090509]},"available":true,"name":"Microfiber Cloths, 16\" x 16\", 3 Pack - Orange","public_title":"Orange","options":["Orange"],"price":500,"weight":0,"compare_at_price":null,"inventory_quantity":-12,"inventory_management":null,"inventory_policy":"deny","barcode":"","featured_media":{"alt":"Microfiber Cloths 16 x 16 3 Pack - Orange","id":3022029193352,"position":5,"preview_image":{"aspect_ratio":1.0,"height":800,"width":800,"src":"https:\/\/cdn.shopify.com\/s\/files\/1\/1308\/2761\/products\/microfiber-cloths-16-x-3-pack-supreme-surface-cleaners_371.jpg?v=1570063275"}}}],"images":["\/\/cdn.shopify.com\/s\/files\/1\/1308\/2761\/products\/microfiber-cloths-16-x-3-pack-supreme-surface-cleaners_335.jpg?v=1567618363","\/\/cdn.shopify.com\/s\/files\/1\/1308\/2761\/products\/microfiber-cloths-16-x-3-pack-supreme-surface-cleaners_156.jpg?v=1567618363","\/\/cdn.shopify.com\/s\/files\/1\/1308\/2761\/products\/microfiber-cloths-16-x-3-pack-supreme-surface-cleaners_888.jpg?v=1567618363","\/\/cdn.shopify.com\/s\/files\/1\/1308\/2761\/products\/microfiber-cloths-16-x-3-pack-supreme-surface-cleaners_807.jpg?v=1567618363","\/\/cdn.shopify.com\/s\/files\/1\/1308\/2761\/products\/microfiber-cloths-16-x-3-pack-supreme-surface-cleaners_371.jpg?v=1567618363"],"featured_image":"\/\/cdn.shopify.com\/s\/files\/1\/1308\/2761\/products\/microfiber-cloths-16-x-3-pack-supreme-surface-cleaners_335.jpg?v=1567618363","options":["Color"],"media":[{"alt":"Microfiber Cloths 16 x 16 3 Pack","id":3022029062280,"position":1,"preview_image":{"aspect_ratio":1.0,"height":800,"width":800,"src":"https:\/\/cdn.shopify.com\/s\/files\/1\/1308\/2761\/products\/microfiber-cloths-16-x-3-pack-supreme-surface-cleaners_335.jpg?v=1570063275"},"aspect_ratio":1.0,"height":800,"media_type":"image","src":"https:\/\/cdn.shopify.com\/s\/files\/1\/1308\/2761\/products\/microfiber-cloths-16-x-3-pack-supreme-surface-cleaners_335.jpg?v=1570063275","width":800},{"alt":"Microfiber Cloths 16 x 16 3 Pack - Yellow","id":3022029095048,"position":2,"preview_image":{"aspect_ratio":1.0,"height":800,"width":800,"src":"https:\/\/cdn.shopify.com\/s\/files\/1\/1308\/2761\/products\/microfiber-cloths-16-x-3-pack-supreme-surface-cleaners_156.jpg?v=1570063275"},"aspect_ratio":1.0,"height":800,"media_type":"image","src":"https:\/\/cdn.shopify.com\/s\/files\/1\/1308\/2761\/products\/microfiber-cloths-16-x-3-pack-supreme-surface-cleaners_156.jpg?v=1570063275","width":800},{"alt":"Microfiber Cloths 16 x 16 3 Pack - Blue","id":3022029127816,"position":3,"preview_image":{"aspect_ratio":1.0,"height":800,"width":800,"src":"https:\/\/cdn.shopify.com\/s\/files\/1\/1308\/2761\/products\/microfiber-cloths-16-x-3-pack-supreme-surface-cleaners_888.jpg?v=1570063275"},"aspect_ratio":1.0,"height":800,"media_type":"image","src":"https:\/\/cdn.shopify.com\/s\/files\/1\/1308\/2761\/products\/microfiber-cloths-16-x-3-pack-supreme-surface-cleaners_888.jpg?v=1570063275","width":800},{"alt":"Microfiber Cloths 16 x 16 3 Pack - Green","id":3022029160584,"position":4,"preview_image":{"aspect_ratio":1.0,"height":800,"width":800,"src":"https:\/\/cdn.shopify.com\/s\/files\/1\/1308\/2761\/products\/microfiber-cloths-16-x-3-pack-supreme-surface-cleaners_807.jpg?v=1570063275"},"aspect_ratio":1.0,"height":800,"media_type":"image","src":"https:\/\/cdn.shopify.com\/s\/files\/1\/1308\/2761\/products\/microfiber-cloths-16-x-3-pack-supreme-surface-cleaners_807.jpg?v=1570063275","width":800},{"alt":"Microfiber Cloths 16 x 16 3 Pack - Orange","id":3022029193352,"position":5,"preview_image":{"aspect_ratio":1.0,"height":800,"width":800,"src":"https:\/\/cdn.shopify.com\/s\/files\/1\/1308\/2761\/products\/microfiber-cloths-16-x-3-pack-supreme-surface-cleaners_371.jpg?v=1570063275"},"aspect_ratio":1.0,"height":800,"media_type":"image","src":"https:\/\/cdn.shopify.com\/s\/files\/1\/1308\/2761\/products\/microfiber-cloths-16-x-3-pack-supreme-surface-cleaners_371.jpg?v=1570063275","width":800}],"content":"\u003cp\u003eSupreme Surface® \"\u003cspan style=\"text-decoration: underline;\"\u003eMicrofiber Cloths\u003c\/span\u003e\" are 100% machine washable and ideal for cleaning, drying, dusting and polishing. Safe to use on natural stone, stainless steel, automobiles, RV's and much more.\u003c\/p\u003e\n\u003cul\u003e\n\u003cli\u003eSold as a 3 pack\u003c\/li\u003e\n\u003cli\u003eAssorted colors: Orange, Yellow, Green and Blue\u003c\/li\u003e\n\u003cli\u003eScratch-free microfibers\u003c\/li\u003e\n\u003cli\u003eLint free and ultra absorbent\u003c\/li\u003e\n\u003cli\u003eEach microfiber towel measures: 16\" x 16\" (40 cm x 40 cm)\u003c\/li\u003e\n\u003cli\u003e80% polyester, 20% polyamide\u003c\/li\u003e\n\u003c\/ul\u003e\n\u003cp\u003e\u003cspan\u003e\u003cstrong\u003eCare Instructions\u003c\/strong\u003e: Hand or machine wash in warm water with like colors. Do not use fabric softener or chlorine bleach. Air drying is recommend! Do not iron.\u003c\/span\u003e\u003c\/p\u003e"}
Microfiber Cloths, 16" x 16", 3 Pack
Microfiber Cloths, 16" x 16", 3 Pack
Customer Reviews
Write a Review
Ask a Question
03/09/2020
Carol G.
United States
Excellent Products
Absolutely the best products!!! Removed mineral spots from my granite sink and looks like the day I bought it. I use the daily cleaner and use their Quartz Granite and Marble treatment with IoSeal every week or so and it remains like new. My newly installed travertine backsplash was not sealed properly and got grease on it and took several day of cleaning to remove. Their customer service walked me through the steps to reseal and my backsplash is totally protected now. They were patient and knowledgeable and encouraged call backs. Won't go anywhere else. Don't hesitate to purchase their products. And shipping is fast.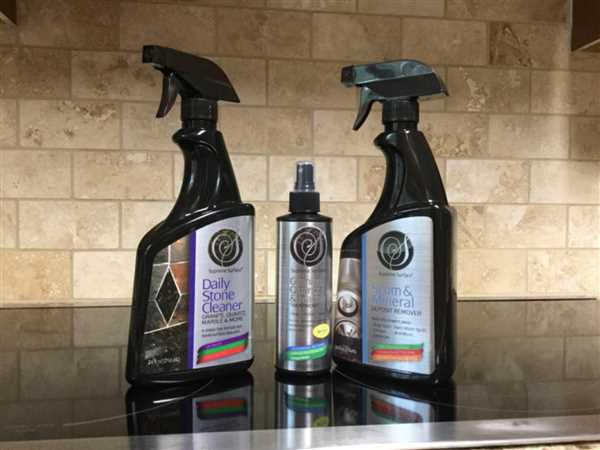 01/26/2020
Damaris C.
United States
CTP all purpose cleaner
I heard about the product from a family member. I saw her great results with it and decided to try it for myself. So far, it has not disappointed. I use it primarily on the stainless steel appliances as well as quartz countertops. Products arrived quickly and well packaged. Will definitely purchase it again!
04/26/2019
Nancy m.
United States
Excellent service
Product arrived quickly ! Everything went smooth Good company to work with